2011
masterView continues to expand its feature set.
25-27 October 2011 in Los Angeles, booth # 507

Once again, Metaglue demonstrated new product features. Oliver Morgan had many informative meetings and interactions with out customers and partners. He showed off new updates in Diffuser, brand new support for LTFS in MXFixer and AS02 in MXFixer and masterView.
7 - 11 September 2011 Amsterdam

Ian Baker and Neil Dunstan met with many partners, clients and resellers. They demonstrated many new product features and explored challenges and opportunities with our many valued customers.
For MXF file quality control, version 2.3.8 supports long filenames on wrapping and shows the name of short tags in Hex View.
11th-14th April 2011, Las Vegas

Oliver Morgan and Neil Dunstan met with partners, clients and resellers at the show.
Metaglue is now shipping postView V1.0, a Linux based DNxHD player that won't tie up your Avid system.
First deliveries of this new real-time MXF player for MPEG2 H.264 & AS-03 files have been made.
Metaglue demonstrated integration of the emerging AS-02 and LTFS standards using BXF and MXF. February 14 - 18, 2011 in Rancho Mirage, CA
Now with improved error detection. MXFixer is quickly described as the Oscilloscope / Signal generator for MXF.
3D support for Avid files included in this client-driven feature set.
2010
MXF players for broadcast and post with easy to read display at low cost Lexington, MA –1

st

June 2010

-

Metaglue

has announced the introduction of two MXF viewers in time for IBC, Amsterdam 10th-14th September 2010,

masterView™

for broadcast and

postView™

for post.

Read the Press Release
3D support for Avid files included in client-driven feature set. Lexington, MA –28

th

June 2010

-

Metaglue

announces the immediate availability of MXFactory™ Version 3. MXFactory creates Avid compatible MXF files from a wide range of video formats. It can be used as both a stand-alone system and in integrated workflows to speed up the ingest process.

Read the Press Release
The Material eXchange Format offers efficiencies
Neil Dunstan recently contributed an article to the Broadcast Engineering World Edition.
The article discusses how operational efficiencies can be achieved through the use of the evolving MXF Application Standards.
Read the article on the Broadcast Engineering website
Metaglue has released the beta version of its first
real-time MXF player for MPEG2 H.264 & AS-03 files
This cost-effective operational tool shows:
Video in SD and HD
Eight channels of audio
Vertical Interval controls
Subtitles
Read more about masterView
Final development of our integrated MXF QC tool is well under way.
If you require a QC tool for file-based media, which:
Has a user friendly interface
Is designed for an operational environment
Provides viewing of MXF files
Brings automation to support your QC and review process
Has the potential to integrate along your whole program path
We will keep you informed about the final release.
Matt Beard joins Metaglue as Principal Developer.
Matt brings 15 years of broadcast software
engineering expertise.
We recently welcomed Matt as an official full-time member of the Metaglue team. Based in the North East of Scotland,
Matt has been a collaborator on a number of Metaglue projects including development of our MXF Library into a fully fledged system—which as an open source solution is now integral to a considerable number of industry products.
Read Matt's Bio
Metaglue personnel attended the HPA Technical Retreat for a first showing of new technology to help the automation of Quality Control for file based material.

The new software will allow media companies to automate part of the QC process across the whole file based workflow to considerably cut costs and employ human resources more efficiently. It was on public show for the first time in the HPA Demo Room.

Oliver and Julian Ramm, Metaglue's new West Coast representative, were in attendance.

Oliver also presented at the Breakfast Roundtables to discuss Program Versioning with AS-02 and Program Distribution with AS-03.

The HPA Tech Retreat was be held at Rancho Mirage 16th -19th February 2010.
Julian Ramm is appointed as West Coast representative.

With a continuously expanding customer base on the West Coast, Metaglue has recruited Julian Ramm to provide local support for existing and future clients. With career experience stretching across the broadcast, post and film industries in the UK and USA, Julian will be the local sales contact and provide a hot link back to development teams.
Lexington, MA
12th January 2010
- Pioneering MXF and metadata company
Metaglue Corporation
has appointed Scene&Heard as its Western US Marketing Consultant. The L.A.-based PR and Marketing agency will also provide sales support to the Hollywood media community and across the western region ...
Read the Full Press Release
2009
Managing Content Integrity for MXF
At the October SMPTE Technical Conference in Hollywood, Oliver Morgan presented a paper outlining a new standards based approach for managing Quality Control of file based content. This will allow media companies to automate part of the QC process to considerably cut costs and employ human resources more effectively.
Visit
http://www.smpte.org/
for more about SMPTE.
Oliver Morgan presents a paper on the MXF Application Specification at the annual PBS Technology Conference.
MXF AS-03 is an Application Specification to optimise MXF file structure for program delivery. It is intended for direct playout via a video server, for example, and is based on a PBS profile for MXF program delivery to their member stations.
View the presentation.
MXF "Mit Out Essence"
Oliver Morgan's article apeared in the March 2009 issue of the SMPTE Journal magazine.
Visit
http://www.smpte.org/
for more about SMPTE.
Ian Baker joined Broadcast magazine's "Managing Digital Workflows" conference to lead a panel discussion on "Metadata solutions for fast, reliable and secure file-based transfer".
The panel comprised James Weeks (Executive Producer, New Media, Sky News), Kevin Jones (Senior Research Scientist, DSTL) and George Luff (Director of Process Improvement, BPI Improve).
The topics discussed included:-
Choosing the right metadata to facilitate tracking and finding the file you need
Tackling interoperability issues in workflows –what can you do to minimise the pain of incompatibility?
Practical steps you can take to ensure secure file-based transfer
Maintaining quality control in your metadata to ensure the consistent performance of your digital workflow
Oliver Morgan was among the recipients to receive an Emmy Award for Development and Standardization of File Formats for Video and Audio at the January 7th awards ceremony.
Oliver was a principal architect of MXF and chair of SMPTE W25 throughout the development of MXF.
Visit
http://www.smpte.org/
for more about SMPTE.
2008
Systemwide QC Using MXF and Metadata
As more and more assets are being managed and manipulated in the file domain, processes are becoming increasingly automated and thus invisible. Overall Quality Control of the asset is becoming a significant cost factor in the lifecycle of any audio visual production. Creating an audit trail of QC information and asset lifecycle information in MXF allows highly automated reliable systems to be built with a minimum number of human touch points. This session will illustrate the principals and technology involved.
The Technology Conference Website
Following Metaglue's continued support of the Advanced Media Workflow Association, Metaglue has now moved from Associate Member to Principal Member of this organization.
Oliver Morgan was re-elected to the Board of Directors.
Please visit
http://www.amwa.tv/
for further details.
Putting AAF and MXF to Work

The conference, Mastering Digital Workflows, organised by Broadcast magazine took place in London on 6th March. Neil Dunstan of Metaglue gave a presentation on behalf of the AMWA about "Setting Industry Standards for Digital Workflows" to the audience of senior production, operational and technical strategists.


2007
With the increasing use of MXF across the industry, many manufacturers are working to include this as an interconnect standard for their products. With finite staff resources, companies often look for external support on an "ad hoc" basis for specific projects of this type – which allows their own engineers to concentrate on company specific developments.
Since it started in 2002, Metaglue has provided bespoke MXF consultancy to many organizations in many markets. However, we are aware that an "off the shelf", cost effective, service is more appropriate in many cases. So employing Metaglue's past experience, we can now offer an MXFplus package to help organizations implement MXF in their products and systems.
MXFplus is a software development kit (SDK) which builds on the standard MXFLib and provides extra libraries to simplify MXF developments. At Metaglue we never like to make things more difficult or expensive than necessary. So our aim is to provide a service which:-
Can be scaled to exactly satisfy the customer's needs
Is commercially straightforward and easy to administer
Has no hidden or retrospective costs
Includes all source code to the libraries
Delivers what you want, when you want it
If you feel that your organization could benefit from this type of service, please so we can explore your requirements!
Putting AAF and MXF to Work
Metaglue is proud to announce its involvement with the MXF Mastering Format Project. At NAB 2007, the Advanced Media Workflow Association – AMWA (formerly The Advanced Authoring Format Association - AAFA) sponsored the first public demonstration of this long-term initiative.
The aim of this project is to bring a fresh approach to MXF and to provide proposed, real-world solutions for key workflows, focusing on creating a single MXF master file from which multiple versions of a program may be created.
This rationalization project currently includes two key strands: MXF Mastering Format and the MXF Processor API. The work, which was started two years ago by Turner Broadcasting System, Inc., was demonstrated at the show and was open to comment and scrutiny. The Advanced Media Workflow Association welcomes input on this technical proposal.
The full list of manufacturers which took a leading role in this MXF rationalization work is:
EMC, Marquis Broadcast; Metaglue; Omneon; Open Cube Technologies; Pro-Bel; Quantum; Snell & Wilcox; Softel; TMD.
Please visit
http://www.amwa.tv/
for further details.
2006
Once again, We at Metaglue enjoyed an insightful and successful IBC. As metadata devotes, we are gratified to know that so many of you are now engaged in in projects utilising this exciting new technology, and we are excited to be in a position to contribute to your projects with our knowledge and tools.

We look forward to seeing all of you at IBC 2007!


As a special offer for new orders on Diffuser and MXFixer, taken before October 2006, we are giving the first year's maintenance free of charge. This applies regardless of whether they are bought separately or together.




July 11th & 12th in Burbank.
Download the event brochure.
The AAF Association will be holding its Technical Awareness Event & Conference on 11th & 12th July in Burbank. Again we are pleased to support this event where visitors will be able to see MXFixer and MXFactory in action.
Visit the
AAF Association website
for full details about this event.
On Thursday July 15 at 6:32pm Pacific Time, Oliver and Brad Glimer of the Advanced Authoring Format Association join Philip Hodgetts and Michael Horton to discuss AAF, MXF and the upcoming AAF Technical Awareness Event.
Listen to the Podcast
If your organization has to manage MXF files, you probably have a requirement to check the metadata. MXFixer has been described as "the waveform monitor for metadata". It enables you to unwrap the file and check that the metadata is present and correct before rewrapping.
Learn more
Metaglue is pleased to announce that the Ascent Media Group has extended the provision of their Hosted Service of Diffuser by a further year and added a package of MXFixer and AAFixer to complement it.
Read the full press release.
Find us at SL1513C in the Avid Developer Community.

Once again our booth will be staffed by Oliver Morgan, Ian Baker, Lisa Coen and Neil Dunstan.

We will be demonstrating the integrated operation of MXFixer and Diffuser to provide a full package to extract and analyze metadata whilst comparing it to a custom metadata dictionary before rewrapping it.

As always, we would be very pleased to see you at the exhibition and invite you to contact us to set up a time to meet. The dates for the show this year are: April 24-27.


MXFactory is a family of products which creates MXF files. Launched in a version that creates high quality proxies from ultra-high resolution telecine outputs, the range is expanding to include other combinations.


Oliver Morgan participated in the Hollywood Post Alliance Technology Retreat.
Once again, Oliver lead several breakfast roundtable discussions:
•
"Metadata and Workflows"
•
"MXF in Production, Post-production, and Archives"
Visit the
Hollywood Post Alliance
Website to learn more about the Hollywood Post Alliance.
MXFixer 30-day trial
If your organization has to manage MXF files, you probably have a requirement to check the metadata. MXFixer has been described as "the waveform monitor for metadata". It enables you to unwrap the file and check that the metadata is present and correct before rewrapping.
Obtain your copy or learn more.
2005
On November 10, 2005 Oliver Morgan presented
"Storing User Metadata in MXF (and other) Files"
as part of the
Media Infrastructure - MXF, GXF, and AAF
session.

View more details about the session.
Please visit the
SMPTE web site
for details about other conferences and seminars.
File Under "Too Difficult"?
Different organizations are at different stages of planning for the exploitation of metadata. This article draws parallels with other technological leaps that our industry has experienced and describes a few of the ways that companies are planning today to get significant business benefits and competitive edge.
TVB Europe published this op-ed piece by Neil Dunstan in their October 2005 edition.
Download a copy of the article.
Visit TVB Europe at
http://www.tvbeurope.com
Public beta testing of the SMPTE Registration Authority website is now underway.




Thanks to everyone who visited us in Amsterdam. This provided valuable insight into your current and future projects. We hope that our discussions helped our customers to formulate their thoughts in the use of MXF and metadata and look forward to our continuing discussion. And thanks also to those who placed orders!


Due to overwhelming demand at NAB2005, Metaglue released an online trial version of Diffuser.
Our Diffuser™ product began shipping in January and we are now pleased to announce our new Diffuser online demonstration tool.
To experience Diffuser in action, go to
http://metaglue.tv/diffuser
and register to set up your own trial account. You will gain quick and easy access.
After 4 days of talking with customers and demonstrating Diffuser™, AAFixer™ & MXFixer™ at NAB2005, we are all tired but happy - with new insights and ideas about your needs, projects and questions.

Thanks again for taking the time to stop by our booth. It's always wonderful to be able to catch up with old friends and to meet so many new colleagues with exciting cutting edge projects. It is very encouraging to see a growing appreciation of how metadata can improve both your creative and business processes. It is your thoughts and ideas that have helped to make our products a success.

We are very pleased now to be shipping the Diffuser™ product into the US and Europe with AAFixer™ & MXFixer™ due shortly, and we look forward to helping you with your projects


Oliver Morgan participated in the Breakfast Roundtables: AAF & MXF Working Together on Thursday, January 27, 2005
Metaglue also participated in the AAF Association Demos from Wednesday evening through lunch on Friday. Visit the
Hollywood Post Alliance
Website to learn more.
2004
Oliver Morgan presented a tutorial covering online access to the SMPTE Registration Authority Conference in Pasadena CA
Please visit
www.smpte.org
for details about other conferences and seminars.
As the dust settles from a whirl wind of activity at IBC 2004, we want to tak e a moment to reflect on our experience. As always it is rejuvenating to connect one on one with the individuals we define as 'the industry', share our ideas and progress, hear about yours. We came away with substantial validation of our concept, a clear vision of the extensible path we are on and a renewed vigor to ship product.

We thoroughly enjoyed our time at the show in Amsterdam and look forward to seeing you again next year, if not before. Thank you for making IBC a success!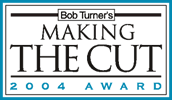 Each year respected columnist Bob Turner announces a select list of the best and most exciting products exhibited at NAB. This year, Metaglue Diffuser and AAFixer were named to
the list.
Products making THE CUT are those that are poised to take video postproduction to the next level.
subscribe to Bob Turner's online newsletter: THE CUT./a>